With each passing day, usage of technology in agriculture continues to advance, with the farming communities continually endeavoring to reap maximally off their land. One of the latest advancements is in the field of small Unmanned Aerial Vehicles - sUAVs. Whereas they have been around for a while, their usage to improve production and food is recent.
Wikipedia describes them as aircrafts without a human pilot aboard; controlled either autonomously by onboard computers or by the remote control of a pilot on the ground or in another vehicle. They are also referred to as drones.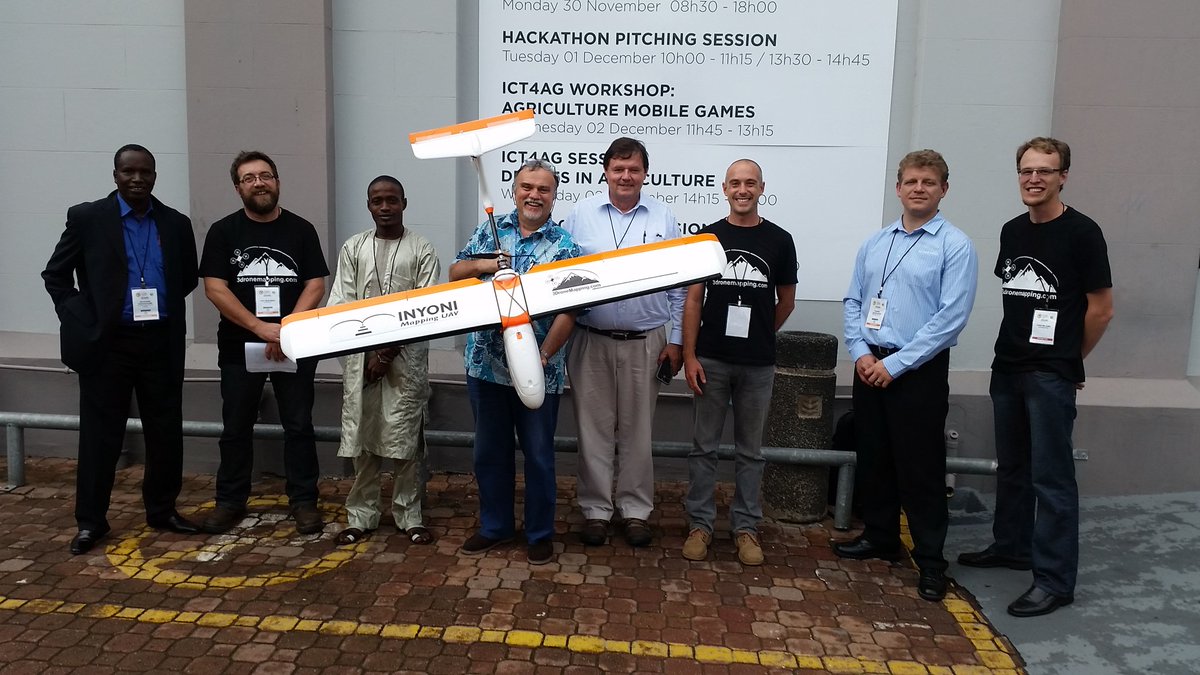 In December 2015, under the sponsorship of GODAN - Global Open Data for Agriculture & Nutrition, I attended the Global Forum for Innovation in Agriculture (GFIA) conference in Durban – South Africa. While there, at CTA - The Technical Centre for Agricultural and Rural Cooperation ACP-EU exhibition stand, for the first time in my life, I saw a drone. They had displayed three types with someone to explain in detail. Also, there was a full session on drones that brought together techies, users, differing governments and interested parties like myself. The discussion exhaustively discussed these unmanned aerial vehicles.  At the stand was also information that would enable one join the online discussion group, www.uav4ag.org, that brings together agricultural practitioners interested in sUAVs to share their experiences in developing sUAV technologies and related software applications; and more importantly in making use of small UAVs to improve the management of crops, fishing grounds and other resource-based activities.
There was a lot to learn about sUAVs. I did pick out some key points that I believe are worth sharing.
Drones are useful in the production of models of large farms. These high resolution 3D models can then be used for highly realistic visualization of agricultural fields and activities. They can be used to capture high resolution images of the territory; with a single flight capturing up to about 800 photos. They can cover up to hundreds of acres in a single flight and at a cheaper cost, more so, at a far greater resolution than what satellite imagery provides, even when there is cloud cover.
Using these images, a farmer can detect an impending problem in the fields earlier for instance a disease or pest attack on the crop, troubled soils due to inadequacy in fertilizer application, water availability or even an area that has failed to germinate. The images depict discoloration in the affected areas. This allows the farmer to address it thereby increasing the yield quality and quantity at the end of the season. Interesting is the drones come along with image processing software that can be used to transform these shots into one large 'orthomosaic' image. When algorithms like Normalized Difference Vegetation Index (NDVI) are applied to this image, one can then create a reflectance map of their crop, including additional information like accuracy of the zoning. Others were using these drones for counting their livestock, studying land use inclusive of along a river in remote areas. It came out clearly that innovation was key when using drones.
The results from the images are immediate. They are easy to interpret; even to the rural person. Farmers do not need to be highly educated to interpret the images resulting. In case one needs deeper analysis, the images obtained are importable into software used for doing variable rate prescriptions and helping provide
The cost of sUAV technology is not low and is rapidly decreasing. Today, from the, Amazon, one can obtain the set for as low as just under Euros 700; and like many other gadgets, they call for delicate handling.
However, in some countries, the licensing and registration procedures are very tedious and laborious. The whole process involves a lot of paperwork and skills before the license is issued. Worse, is many countries still look at them as security hazards.
At the end of the day, I summed drones or sUAVs as very effective for situations calling for pictorial and mapping information in areas that are harder to reach or too vast to travel in a shorter time. Farmers are able to gather types of data that was previously unreachable, otherwise tagging a cost element to obtain it; and in turn make needed changes during the same growing season. This consequently has a positive impact on their yields types and amount. 
Last but not least I understood how sUAVs open up the opportunity for many parties to monitor the use or misuse of resources, including e.g. illegal logging, or the aftermath of natural disasters.